Well, it was back to school this week - as always, a chaotic time trying to work out what is happening where and when, and of course, the epic task of
actually
trying to enrol. This term I am largely focused on swimwear design and construction, and the design of a digital print to feature on it - exciting stuff! I am already bursting with ideas! On completion of this and a few other
riveting
subjects such as sustainability practices (you don't think I already wring out every bit of value from my materials, time, and working practices?!!) I will - strap yourself down - graduate in June with my Diploma of Applied Fashion Design and Technology!
At the same time, my Wearable Art pieces are humming along nicely as deadlines loom - there should be another photoshoot in a week or two. I thought I had found the most fabulous piece of street art to use as a backdrop, but when I went to visit it, found that it was no longer quite so fabulous - the windows and doors are now back to being windows and doors, so essentially half the work is missing! There might be a few local opportunities, though...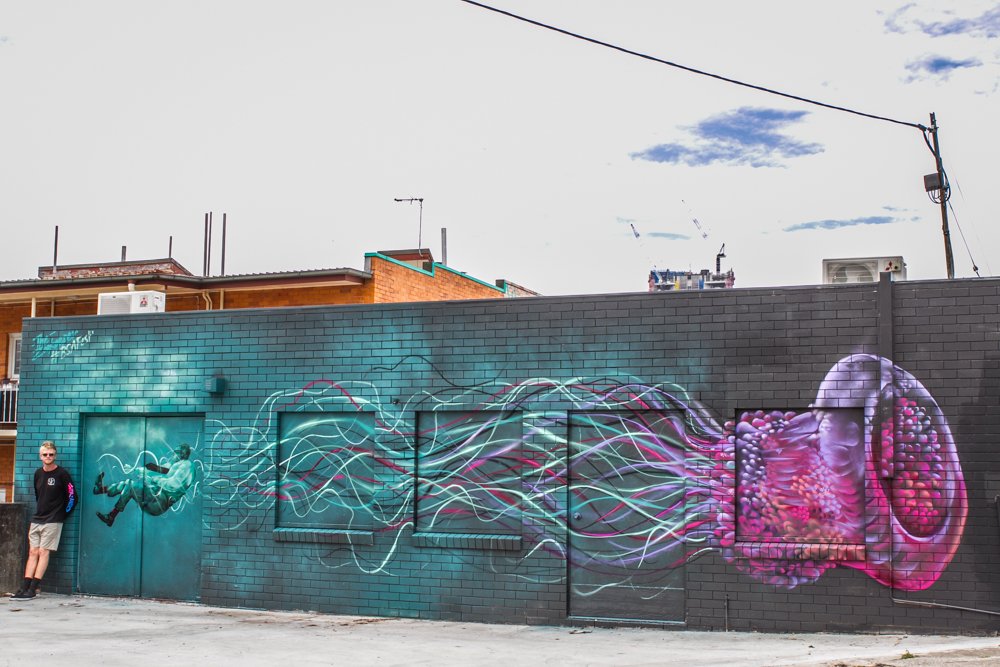 Jellyfish goodness for my Oceania theme... NOT!
Norman Park Rail underpass - slightly naff but a marine theme and a good colour contrast
Local childcare centre
Cloudland stairs
Today I made a few more explorations, to some local murals, then to good old Cloudland, where the décor is ever fabulous, with the stairs really coming across beautifully today. As we were the only people there at 3pm on a Sunday, I think this could work! I just need to talk to someone there - certainly not the personality-less barman there today!! From there we walked through the valley, seeing the charming Babushka Ballerina on the way to our next stop, bar
Eleven
, which had us in hysterics as we channelled the youtube
video
....we enjoyed the lift immensely!!
Babushka Ballerina
Eleven - one of the views
I'd like to go to ELEVUN!!!
Fantastic mural in Winn Lane
Hilary Briss at your service - would you like 'the special stuff'?
Today marks the last day we spend with Matts' son Liam before he enlists in the Army - a bit of an emotional night. His siblings and girlfriend are here, and we presented him with this personalised leather book cover (with the same family crest he got tattooed on his chest for his 18th) and a pen made by ex-diggers out of a bullet. This was my first experience at pyrography on leather - got a great little tool from Bunnings for $30 (which, poetically, I got him to go and pick up for me last week!) and I thoroughly enjoyed the experience. I see potential here!