Although this is largely a textile focused blog, every now and then it strays a bit. And this month, I strayed to China for a tour of Shanghai, Xi'an and Beijing! It was a wonderful, hectic week, and my mind is full of imagery and ideas - just what I needed to conquer the post-Wow slump. So, here are the highlights:
The trip from Shanghai airport into town was amazing, as I saw vegetable patches by the side of the road, even some men threshing wheat, whilst in the background loomed rows of identical apartment buildings, then a traditional enclave flashed by (missed it)!
Just an old lady tending her vegetable patch. By the side of the highway....
After checking in, visiting my old Japanese favourite Family Mart for some beverages, and an afternoon sleep, we head off to meet the rest of the tour for our first dinner. Allergic to oyster sauce, a favourite ingredient in many Chinese dishes, I am full of trepidation with every bite, but soon learn to trust our lovely guide, Summer. One of my favourites from this meal was the crispy rice dome with syrup, which was empty inside, and needed to be cracked open - delicious!! I have no photo of it myself, and have found it difficult to find one on the net, except this, from
this blog.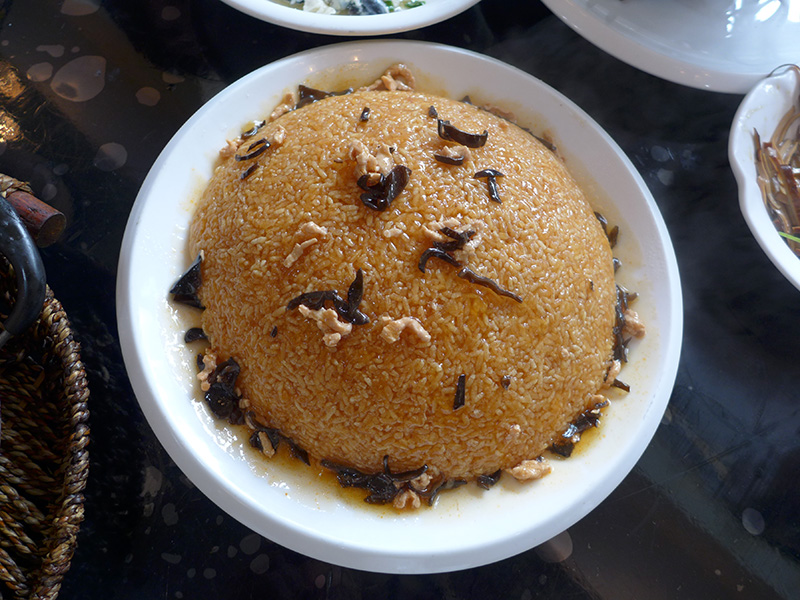 Back at the hotel by 8, we decide to walk a few blocks around the area, which is close to Fudan University. Eventually we realise why the traffic is so quiet - almost all the scooters are electric! To save energy, they don't even put on their headlights!! Beautiful trees line the streets, where people just seem to hang out on their scooters, chatting, or smoking.
Unfortunately, the next three days are a major holiday for all citizens, celebrating the Dragon Boat Festival, so our time in Shanghai is somewhat dictated by the crowds! Our first trip the next day is to the Water Gardens of Zhujiajiao, where we arrive to 'incredible throngs and diabolical pongs', according to my notes. The stench was a cross between raw sewage and death, and was incredibly offensive, getting worse as we approached food stalls selling celebratory holiday treats!! (It wasn't until much later in the trip that we discovered that the culprit was the legendary 'stinky tofu' - I knew it was bad, but I don't know how you get it near your mouth when it smells like that!!) Lunch consist of one of the holiday treats - pork belly cooked in bamboo leaf, some delicious duck, and yummy bok choy, amongst other dishes. Another popular pastime is dressing up in traditional clothes for photo shoots.
In the afternoon we travel to The Bund, the old French Quarter and financial district, and as we drive past, I see glimpses down the streets of what I imagine the old Shanghai looked like - sadly, I never get to explore. After a walk along the river, we have dinner and meet the English contingent who missed their connection and are currently luggage-less! After that, we cruise the Huangpu River to look at the light display on the skyscrapers of the city, with the obvious favourite being the TV building - Oriental Pearl Tower. In many ways it reminded me of the cruise along the Hudson River in New York I did several years ago, also at dusk.
As we waited for some tour members to do some shopping, I was handed the flag whilst our guide went to assist - Happy Svenja loves holding the tour flag!!
Temporary flag bearer - yaaae-haaaaah!!!